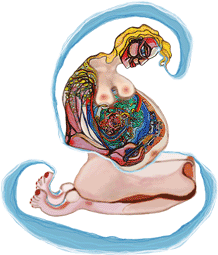 The art of
Sara Smerdon.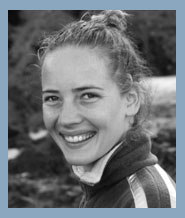 A small history of my artistic development.
I was born in South Australia on the 10th of November, 1974, to parents who encouraged both themselves and their son and two daughters to develop their individual personalities within a realistic understanding of what life seems to entail. Curious, like most children, I wanted to try everything. Only then could I know for sure what I liked and what I didn't. Although gregarious and a pleasure to be with, there was much I saw that I didn't agree with!
Questioning that has only become stronger with maturity.
My mother came from an academic family. She developed strong interest in the sciences and in factual knowledge. She is a strong woman with a refined intellect and high values. She is a brilliant and dedicated teacher, qualified to teach Mathematics and Science at High School level. She currently works on the

Pitjantjatjara Lands in the centre of Australia.
My father was raised in a family more concerned with social ideals, and as a result seems more emotional, extroverted and is extremely imaginative and creative. He is a classical composer, and just about everything else!
I have a lot of respect for them both, and I am proud of their achievements.
They formed their love early and gave birth to me, their second child, each at the age of twenty one.
I had a childhood very close to nature, filled with love and experimentation. I have always had a strong interest in developing the power of my senses. Already as a child, I formed a grounded sense of self confidence, sound values and good skills in the basic functions of life.
I was so fortunate to have had excellent guides in the early stages of my life. It gave me the security to open wide my eyes and to play with my own direction.
At first I had the intentions to continue my training in dance and dedicate myself to a career as a professional dancer. However I soon realized that this limited my own need to create. My spirit was too free for such a controlled discipline!
I turned strongly to painting, and by the age of fifteen had already found a personalized style, and a bliss within me which told me that this was what I wanted to put my energy into.
Proving in my secondary studies that my passions were fruitful for my state of mind and its results, I continued my studies in the form of visual communication at the highest university level in Australia. In those five years I continually played through varied techniques to express myself. I developed my skills in conceptual thinking and in the power of symbolism. I refined my ability to clearly explain my work, in writing and in speaking, and more importantly to reach deeper into all angles of thought, to open up numerous perspectives. I loved to debate on current trends of thought. I learnt important researching skills, performed inspiring tutorials and enjoyed the development of thought in the process of essay writing. I looked more intensively into the history of art through the ages and varying cultures. Focussing on artists that particularly appealed to me I couldn't help but become influenced by such artists as Picasso, Klimpt, Hundertwasser, Goldsworthy, and also by Hindu and Buddhist art, ancient manuscripts, and religious icons from Russia and ancient Greece. I was passionate about contemporary dance and performance art. I trained in the disciplines of drawing, painting, ceramics, bronze casting, welding and constructed sculpture, installation and environmental sculpture, printmaking (etching, woodcut, relief printing, mono prints, screen printing, engraving and embossing,), photography (particularly in the black and white darkroom), textiles, contemporary dance and performance art. I learnt not to bend to a system, and would not contain myself within any borders. I discovered that I am in fact my own best teacher, by exposing myself to the best influential experience.
I learnt a great deal and formed strong foundations within this 'Bachelor of Visual Arts' degree. I loved and certainly I used the freedom to experiment with all the facilities available to me as a student. However the most powerful learning came when I stepped out of 'school' and set my own discipline, contacts, stretched my sight beyond the horizon, and accepted all the sacrifices and consequences that came from seriously developing my artistic career. More beautifully, it was only then I realized so strongly how important creativity really is for me.
In this earlier period of working I had, evidently, a strong interest in colour and form. These pieces cradle a sense of naivety, optimism, sensitivity and humanity. They are uncomplicated and pleasant to the observer. Strong spiritual context had already begun to weave its way through my thoughts and research, specifically surfacing in my performance work.
In February 1993, I seriously began to follow my passion for travel. I journeyed for two months through Northern India and Nepal. This developed my vision for the world, my interest to learn what others think life is all about, particularly in the spiritual beliefs of Buddhism, my ability to work past my fears, and a great love to venture out of the comfort zone, into foreign lands and strange experiences!
The text books meant little in comparison to real experience.
I learnt to listen to my own voice and not rely on quoting others. I taught myself the survival skills of being a foreigner in an unknown land.
I ventured for nine weeks at the end of that year through many islands in Indonesia.
I was unconsciously breaking down all the programmed structures we all tend to carry in a safe lifestyle, to find the best way of life for me.
Working hard to collect a reasonable sum of money, I headed out again from the shores of Australia in April 1997 on a one way ticket, having sold the car, given away all my furniture and clothes and leaving only a small shoe box of official papers, my photographs, and all my art work entrusted to my supportive parents. The driving force of this extreme decision was a dream I had to paint on a Greek Island!, one of the most important changing points and beautiful experience of my life so far. Deeper still, I had the desire to stand alone in the world, with no responsibility or law to govern me but my own intuition.
I discarded most of what had been thought to be essential, and remained with only a change of clothes, my camera equipment, a small note book, which I filled with sketches, poems and quotes from sources that touched me, and a thirst to learn, to see, to feel and to expose myself to all facets of life in surprising places around the world.
This journey took me through Indonesia again, Thailand and I arrived in Europe in July 1997. My travels through Europe brought me to England, Ireland, France, Belgium, The Netherlands, Germany, Luxemburg, Switzerland, Austria, Italy, Slovenia, Greece, and Turkey.
I spent the winter months in Santorini, Greece, a time of intense inner search, blissful isolation, and extreme dedication and beautiful productivity in terms of my painting. The growth in myself from the previous eight months of wandering shone with breathtaking clarity in my new work.
With depleted funds I returned to central Europe, settling on Maastricht (NL) to build a new base for myself with the purpose to learn further the European contemporary art culture, expose the work I had with me, and naturally, work further. I had no idea that this beautiful city would keep me happy and feeling at home for so long!
Early 1999 I met someone who evolved my life in an unexpected direction!, and I now live, with incredible love!, together with an extraordinary partner who has as strong a personal ambition and similarities in philosophy as my own. Together we live and work in Teuven, in the Voerstreek, in Belgium. It is an environment which speaks to me of the basic beauty of life and allows me the uncluttered freedom to hear myself think and feel, and develop undistracted actions toward my ideals of a creative life.
In the last years I have trained myself in computer design, combining hand made work with the digital world, which I feel is not only important for my future, but a key factor in the future of visual communication. Weaving my creativity through many media, the soul intention, however, remains solid. To bring attention back to the basis of our existence, to the natural laws. To offer both myself, and all those that share the work with me, an opportunity where we are able to give time to clearly face and evolve ourselves.
That is an ongoing process!

Sara Smerdon.